Canon has added to its range of 4K broadcast lenses with the launch of the CJ20ex5B.
The 2-in-1 UHDxs-class lens has a 20x zoom range and 5mm wide-angle – making it suitable for a wide range of broadcast applications such as studio filming, sports production, documentary shooting and news gathering.
The CJ20ex5B is equipped with a 16-bit absolute value encoder that can read out highly accurate positional information of each lens settings – zoom focus and iris without initialising the lens. According to Canon, its 3 x 20pin connectors enables the lens to read out such information even when using the zoom and focus controllers at the same time.
The CJ20ex5B's key features include:
UHDxs class 4K optical quality
Hybrid Concept wide & telephoto
5.0-100mm focal length (10 -200mm with optical extender)
f/1.8 – f/2.95 maximum aperture
Built-in 2x extender
Enhanced digital drive unit
Virtual systems compatibility via 16-bit encoder
Canon has also announced the launch of the EOS C70 which it is aiming at those working in documentaries, news gathering and social media – as it includes vertical shooting capability.
The camera offers multiple recording formats to SD cards – including 4K up to 120 fps in 4:2:2 10-bit in XF-AVC (All-I or Long-GOP), and MP4 in HEVC (H.265) or H.264.
The camera has launched alongside the Mount Adapter EF-EOS R 0.71x  – an EF Lens to RF Mount which enables filmmakers to use the entire EF lens line-up with the EOS C70.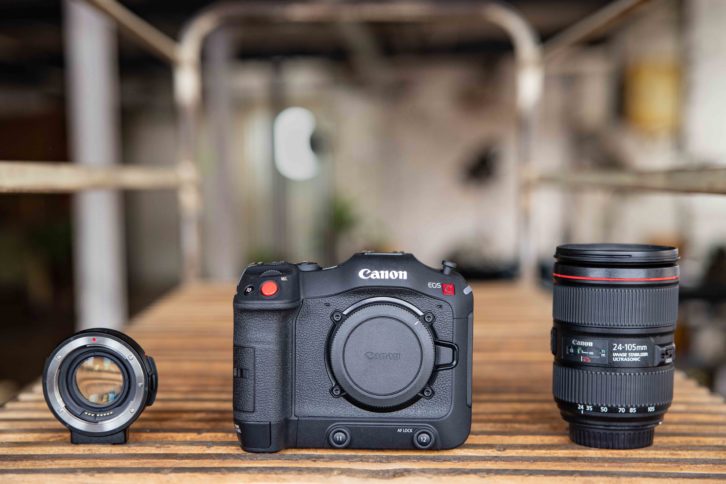 EOS C70 Key Features:
RF Mount system
The Cinema EOS C70 uses Canon's new 4K Super 35mm DGO sensor with HDR capabilities
High frame rate 4K shooting at 120fps with audio recording & DPAF
Dual SD card slots allowing for simultaneous recording in multiple formats
Improved Dual Pixel Auto Focus with intelligent tracking and a new touch user interface
Compatible with the new Mount Adapter EF-EOS R 0.71x giving users access to the extensive range of Canon EF mount lenses