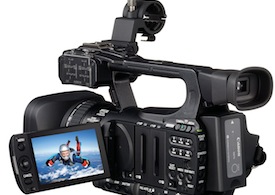 From The IBC Daily News: Canon has extended its XF range of professional camcorders with two new palm-sized cameras, the XF105 and XF100 – the smallest cameras ever to include broadcast quality MPEG-2 full HD 50Mbps, 4:2:2 recording.
They share many features from the existing XF305 and XF300 camcorders, such as manual controls, in a smaller package.
Both have professional features, such as XLR audio (16-bit linear PCM at 48 kHz), while the XF105 has HD-SDI output, plus a shared Timecode input/output and Genlock input, for multi-camera shoots.
They record 1080/50i, 1080/25p, 720/50p or 720/25p MXF files to Compact Flash memory, for Relay or Double Slot Recording (to two CF cards simultaneously).
The cameras have a new 10x 30.4mm Canon HD f/1.8 zoom lens, with Optical Image Stabilizer and more moveable lens groups to help reduce chromatic aberration and overall lens size. They use a single 1/3-inch, 2.07 Megapixel Canon 1920×1080 CMOS sensor, adapted from the 3CMOS sensor system in XF300 models with high-speed data readout to minimise rolling-shutter skew.
Variable framerate recording (12-50fps in 720p or 12-25fps in 1080p), Interval Recording and stop-motion Frame Recording are included, plus three-second Pre Record (cache).
For night-time use, there is infrared shooting and an IR lamp, which will appeal to users of Sony's HVR-A1.
There are two 3D Shooting Assist functions: OIS Axis Shift uses the lens-shift image stabilizer to help align two connected camcorders, while a Focal Length Guide helps to synchronise zoom adjustments.
A manual lens ring is switchable between focus, zoom and iris, and various settings, including iris, can also be adjusted using a custom key and control dial combination. There is Face Detection autofocus including a Face-Only mode that limits itself to detected faces only – particularly useful for self shooters.