Vizrt has been working with niche sports Dødsing on beta testing a new automated deployment solution for cloud live production.
Viz Now enables users to automate and secure deployment of, and access to, end-to-end remote live production tools from Vizrt and third parties in the cloud, in under 15 minutes, said the company.
The International Døds Federation, a Norwegian sporting organisation promoting the sport of Death Diving where participants launch themselves from a 10 metre high platform while performing a variety of stunts, employed the solution during its event in Austin, Texas,
The production team, from Trippel-M Connected Venues spun up an end-to-end enterprise-grade live production fully using the cloud. Two freelance camera operators shot on location in Austin, while the rest of Trippel-M's team directed and produced from its offices in Oslo, Norway.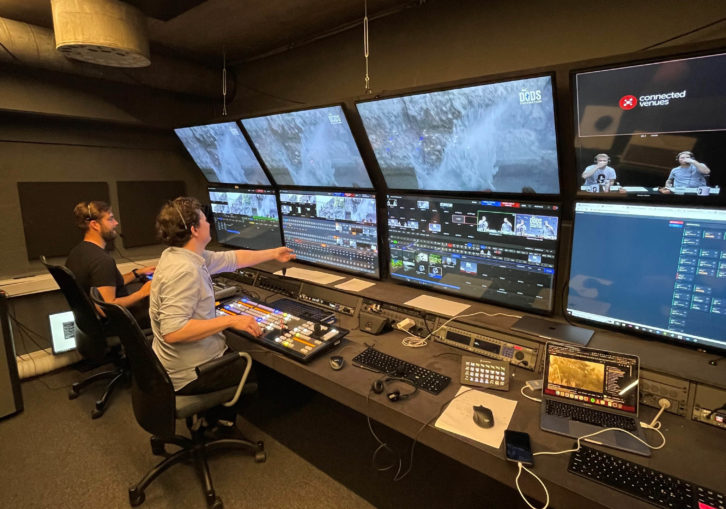 The team remotely produced the broadcast using Viz Vectar Plus for video switching, 3Play by Viz Now for replay, Harrison Mixbus VBM for audio mixing, and Telos Infinity VIP for Intercom, all connected via NDI, using NDI Remote and NDI Bridge running on AWS, to successfully unite the distributed live production.
"Working with Vizrt and testing out Viz Now for the production, gave us our best Dødsing to date," said Vegard Elgesem, CEO, Trippel-M. "Big broadcasters aren't the only ones who can achieve higher-quality productions anymore. Plus, the ease of use was simple, and we did not need specialised cloud engineers; it was a few buttons to click, and we were ready with automated deployment."
"Niche events like this wouldn't normally have the budget and access to have entirely dedicated enterprise-grade live production hardware set ups and there are often barriers, like time and complexity, to manually set up new cloud environments," added Ulrich Voigt, VP of product management, Vizrt. "By using Viz Now, Døds was able to remove barriers to the cloud and achieve an extremely high production value and use all the top market tools they wanted for live production from graphics to sports replay all in one solution."
Viz Now will be available from September.