Amazon Web Services and Bundesliga will debut their new real-time game analysis during tonight's match between Borussia Dortmund and Bayern Muenchen.
Bundesliga Match Facts offers fans two news sets of stats, Average Positions and Expected Goals (xGoals), will aim to give fans deeper insights into a team's intended playing style based on real-time analysis from data captured by tracking players' locations on the field, and the probability of a player scoring a goal.
The statistics are generated by gathering data from the live game video feeds that are streamed into AWS for analysis, and then provided back to broadcast viewers around the world in real-time. As of 26th May, Average Positions will be available during future broadcasts of Bundesliga matches, while xGoals will be available during highlight matches.
AWS and Bundesliga first announced their partnership in January of this year. Bundesliga plans to employ AWS artificial intelligence, machine learning, analytics, compute, database, and storage services to deliver real-time statistics to predict future game outcomes, and recommend personalised match footage across mobile, online, streaming, and television broadcasts.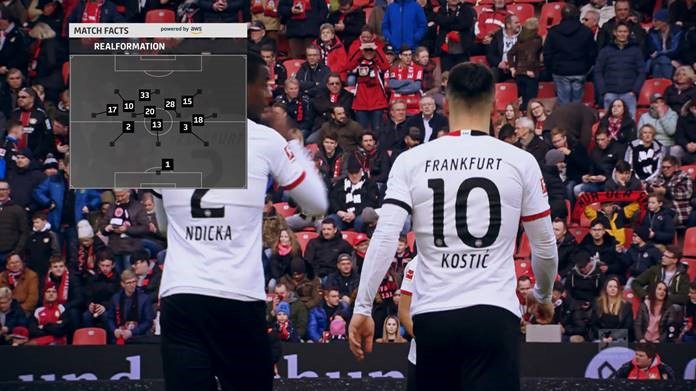 "We at Bundesliga are able to use this advanced technology from AWS, including statistics, analytics and machine learning, to interpret the data and deliver more in-depth insight and better understanding of the split-second decisions made on the pitch," said Andreas Heyden, EVP of Digital Innovations for the DFL Group. "The use of Bundesliga Match Facts enables viewers to gain a deeper insight into the key decisions in each match."
"AWS is helping the Bundesliga enhance the broadcast viewing experience by delivering deeper insights into the game that didn't previously exist," said Andy Isherwood, VP and managing director EMEA, AWS. "With AWS, Bundesliga is able to provide real-time statistics to predict future plays and outcomes. These two new statistics are just the beginning of what we'll be able to deliver for football fans as we look forward to unlocking new ways to better educate, engage, and entertain viewers around the world."