Gerry O'Sullivan is leaving Eutelsat to concentrate on opportunities closer to his home in the UK.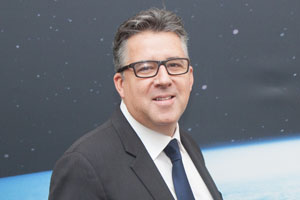 O'Sullivan joined the company in 2017 as EVP, global TV and video. The video business generated €785 million during 2019-20, which accounts for 61 per cent of Eutelsat's total business. He also helped launch the company's Cirrus Cloud video OTT platform.
A source told TVBEurope O'Sullivan has been commuting to the company's headquarters in Paris from his home in London and has decided he wants to focus on projects closer to home.
Daniel Url has joined Vizrt as head of global product management.
He has previously served as managing director and chief sales officer of Qvest Media for more than 11 years overseeing project sales including installations of Vizrt products at Sky Sports Munich, ORF Vienna, Nine Network Sydney, and many others.
According to the company, Url will ensure that NewTek, Vizrt, and NDI will bring to market innovations that continue to be customer-outcome focused. Url and the product management teams will work closely with the R&D functions led by Dr Andrew Cross, forming the group's product development capability.
Speaking about his appointment, Url said: "I have been an admirer of Vizrt for many years and as a passionate believer in the power of software, IP, and Cloud technology to change the way that the world shares its stories for the better. I cannot think of a better place to be."
ThinkAnalytics has appointed data and analytics expert Tony Mooney as SVP, Advertising.
He will be tasked with helping pay-TV and OTT providers maximise their ad inventory across broadcast and streamed TV and generate new revenue streams from advertisers running hyper-targeted campaigns.
Mooney has previously worked at Sky where he was managing director, Insight & Decision Science.
"I joined the ThinkAnalytics team because I have known the company and its leading technology for many years and I can see the potential to help pay-TV and OTT providers of all sizes join the addressable advertising revolution and generate additional income by maximising their ad inventory," said Mooney. "Addressable advertising is about to go prime time as new solutions like ThinkAdvertising replicate the precision of hyper-targeted digital campaigns on TV screens, and offer an attractive alternative for advertisers concerned about the reputational and fraud risk in web campaigns."